A Pergola Canopy by Rader Awning is a beautiful addition to suit our outdoor home or business needs!
A new aluminum pergola canopy is just what your home or business needs to ensure that your outdoor space is cool and comfortable all year long. Take it from us — as the local patio and pergola cover experts, Rader Awning has been transforming hot, outdoor spaces in New Mexico into shaded sanctuaries since 1947. Our aluminum pergola covers are the ideal solution for homeowners and business owners looking to make their pergola space more enjoyable even in the hot summer months.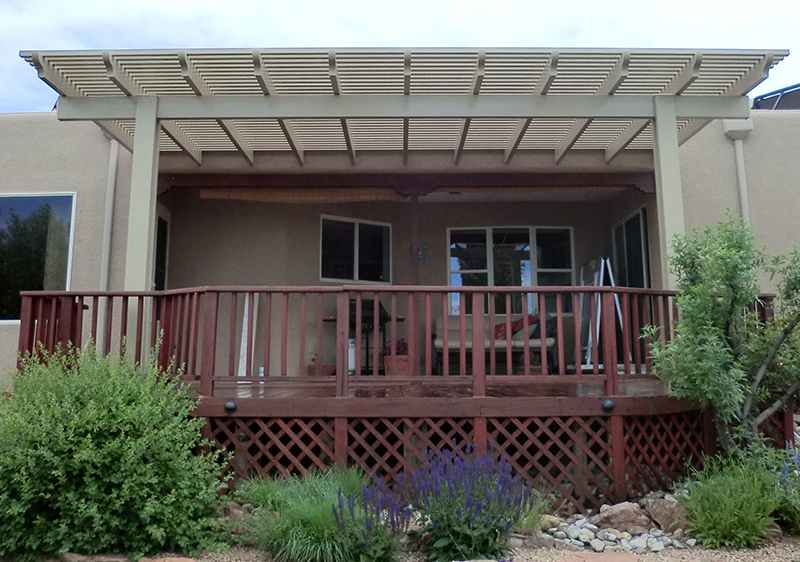 Aluminum Pergola Canopy for the Home
Pergolas are fantastic outdoor spaces to enjoy, especially with the warm weather that New Mexico brings. Although the sunshine is more preferable than colder temperatures, sometimes the heat can be quite unbearable. To ensure that you can relax and enjoy your pergola through the summer, we recommend installing a pergola cover. Our covers can withstand New Mexico's weather and keep you cool no matter how high the temperature rises. They are also low-maintenance and easy to clean, offering you an affordable shade solution that does not require much upkeep.
Pergola Covers Perfect for Restaurants & Offices
If your restaurant or office has an outdoor pergola for people to enjoy their meals, you are offering them the opportunity to make positive impacts on their health. According to medical professionals and researchers, eating a meal outside actually provides a number of health benefits, including: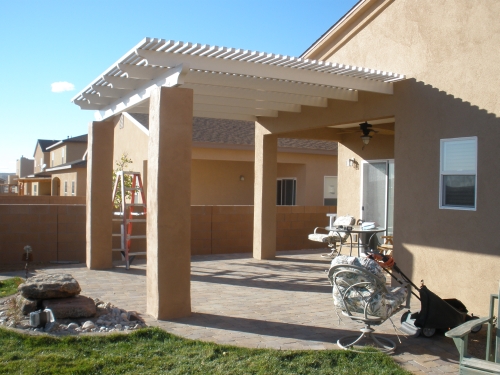 Increases in the production of Vitamin D via sunlight.
Improvement of the immune system through stress reduction.
Heightens the ability to concentrate on tasks due to the psychological association between peacefulness and natural environments.
Increases the effectiveness of the digestive system through mindful eating.
While all of these benefits are great, an uncovered pergola comes with its fair share of disadvantages, too. When the UV index gets high during the warmer months, it can increase the potential for people to develop sunburns. An uncovered pergola also fails to protect diners from the rain. Thankfully, you can easily prevent these problems by installing a new aluminum pergola cover.
Pergola Covers by Rader Awning
A pergola is an investment, and like any investment in your home or business, you want to do your best to make sure it continues to enhance its surroundings. Without a pergola cover, you allow the space to be uncomfortable and unused. Call Rader Awning and let us install a new aluminum pergola canopy for you today.