Metal Awnings by Rader Awning build value, provide shade, and protect from sun damage.
If you have ever considered installing metal awnings to provide protection from the sun on the outside of your home or business building, then you will be pleased to know that a reliable and refreshing shade is only a phone call away. Rader Awning & Upholstery Inc. has been helping Santa Fe and Albuquerque home and business owners combat New Mexico's bright sun with aluminum, steel, and copper awnings for over half of a century.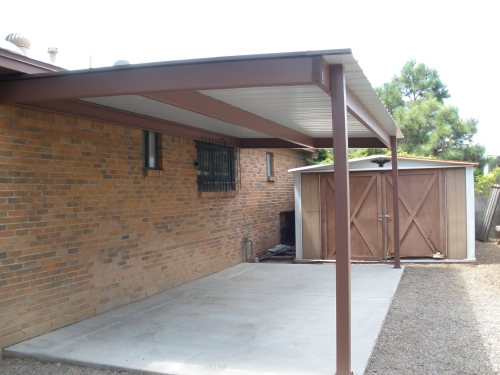 Worthy Investments
You have likely seen aluminum or steel awnings on homes throughout New Mexico. These awning materials have been a popular choice for homes since the 1950s. Today, steel, copper, and aluminum awnings offer a low-maintenance surface that is easy to care for. They can also withstand a variety of weather conditions, like wind, hail, and extreme temperature, making them a long-lasting shade solution that is a worthy investment for any residential or commercial property in the Southwest.
Instant Carport Coverage
No one wants to get into a car that has sat in the sun all day. With metal awnings from Rader Awning, you will never have to sit on a scalding hot seat again. Perfect for residential carports as well as private and public parking lots, steel awnings will provide protection from the sun throughout the day, keeping each car's interior temperature from rising to an uncomfortable level.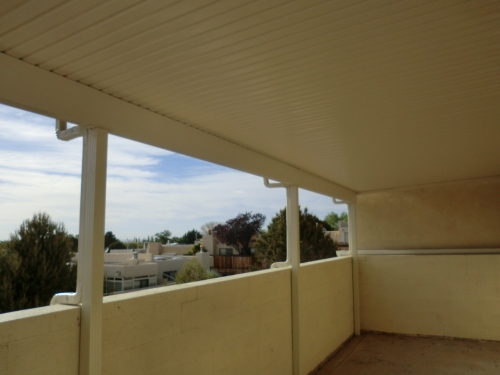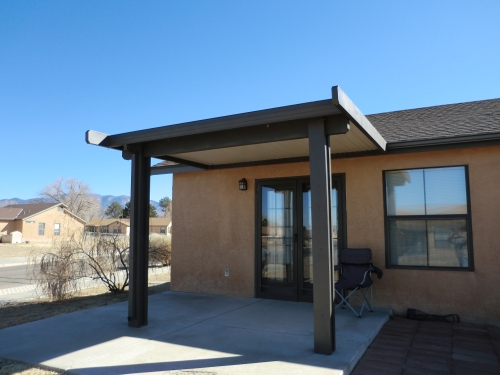 Shaded Walkways Wherever
It comes as no surprise that many New Mexico residents seek out a way to escape the heat whenever they can. Unfortunately, many public and private spaces do not have adequate shade coverage to keep people cool as they walk from their car to their destination. Installing metal awnings over walkways in high-traffic areas is an ideal solution. These copper, steel and aluminum awnings can be placed in nearly any setting including school campuses, retail plazas, medical facilities, corporate offices and places of worship. Creating a covered walkway with metal awnings is a great way to create instant comfort for those that visit your location.
Aluminum, Copper and Steel Awnings for Commercial & Residential Use
The shading experts at Rader Awnings & Upholstery Inc. are confident that a new steel, aluminum or copper awning will offer you the protection from the wind, rain, and sun you desire. Do not let your family, customers or employees sweat in the sun for another minute. Call Rader Awning today and allow us the opportunity to create the perfect shade solution for you using our high-quality, reliable metal awnings.