Rader Awning expertly designs and installs fabric patio covers in Albuquerque and Santa Fe!
The exceptional fabric patio covers that you've seen on Albuquerque and Santa Fe homes are available from Rader Awning & Upholstery Inc. Rader Awning, locally owned and operated, has proudly supplied homeowners with their awning and accessory needs for over half of a century. When you need a new fabric patio cover for your home, be sure to visit Rader Awning and let us help you select a functional, great looking patio awning cover that will keep your family cool all year long.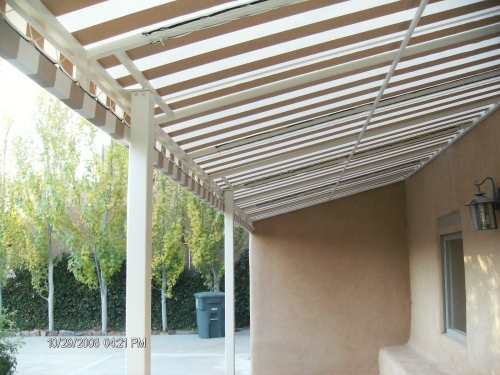 Delightfully Decorative
As a homeowner, you want any additions to your house to be effective and attractive. Even if a product works perfectly, it's unattractive design could make it an eyesore. Thankfully, Rader Awning carries fabric patio covers in designs that look great on any structure. Our Awning Design Center allows you to select from different awning styles, fabrics, valances, and bindings.
Our Design Center options for fabrics include:
Sunbrella — Featuring more than 300 different styles and colors, Sunbrella carries a patio awning for every home's aesthetic. They combine beautiful design with reliable performance to engineer long-lasting fabric patio covers.
Coolaroo — This knitted Shadecloth is designed to breathe and uses airflow to keep temperatures beneath the awning cooler. Coolaroo fabric is ultra-tough, standing up against heavy use without fraying or tearing. Color options include: Natural | Desert Sand | Yellow | Deep Ochre Red | Cherry Red | Rivergum Green | Sky Blue | Aquatic Blue | Turquoise | Brunswick Green | Navy Blue | Steel Grey | Black
Fabric Patio Covers from Rader Awning
Rader Awning & Upholstery Inc. knows the importance homeowners place on their curb appeal. When you choose to install a new patio awning, you want a product that will protect your family from the sun while complementing your home's appearance. Our Design Center has plenty of fabric colors that are sure to match your home's exterior. Find affordable and attractive fabric patio covers and more at Rader Awning & Upholstery Inc.!