Retractable Awnings by Rader Awning are both a beautiful and versatile tool for both residential and commercial uses.
A retractable awning is a useful tool for both residential homes and commercial buildings. Most importantly, it provides comfortable shade and protection against the rain or wind in outdoor areas. It also extends the life of building materials and reduces maintenance caused by extreme weather elements. Whether it's a patio awning or an awning for office entrance doors, these devices are priceless resources that your guests, customers, and family will appreciate.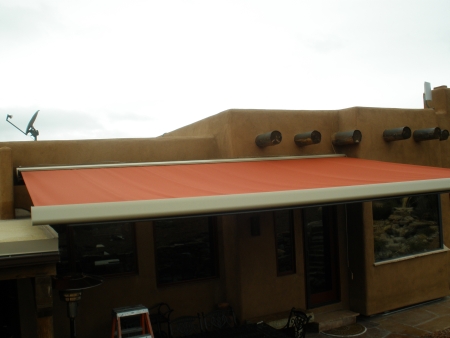 Retractable Awning for Residential Use
Many homeowners in Albuquerque and Santa Fe appreciate the ability to convert their outdoor space as needed. Unlike fixed patio awnings, retractable awnings can be manually or electrically retracted at any time to suit your changing needs. This also allows you to retract or extend the awnings as weather conditions change throughout the day.
Retractable awnings can also provide your family with additional protection. The American Society of Heating and Air Conditioning Engineers advocates for the use of awnings to reduce the amount of heat that penetrates through your home. These awnings can also block allergens from encroaching upon your patio space and offer you shaded privacy as you relax outdoors.
Electric Awning for Commercial Applications
While retractable awnings can be operated manually, many businesses find value in installing an electric awning onto their storefronts, corporate offices, or other commercial buildings. Along with providing protection from UV rays, heat, wind, and rain, electric awnings are easily operated via remote control. A lever is also installed on the awning for emergency manual retraction.
Corporate offices, restaurants, and facilities supervising children love the ease and effectiveness of electric awnings. They are great tools for creating a comfortable space for restaurant goers to enjoy outdoor dining, for business professionals to find protection from the weather, and for children to comfortably play in a shaded area away from the sun's damaging UV rays. Electric awnings from Rader Awning are perfect for any establishment!
Quality Retractable Awnings from Rader Awning
At Rader Awning & Upholstery Inc., quality comes standard. We understand that your retractable awnings need to be sturdy enough to withstand environmental challenges which is why we never compromise on product quality. Rader only uses the finest products in the manufacturing and installation of our awnings and equipment.
If you believe your business or home could benefit from an electric or manual retractable awning, call the professionals at Rader Awning & Upholstery Inc. and discover why we've been Albuquerque's and Santa Fe's trusted awning provider since 1947.